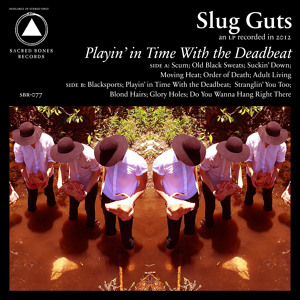 It's been a few days since my last post.  You wouldn't believe how time consuming being unemployed, and otherwise unoccupied, can be.  What a drain. 
Anyway, my brief hiatus from the blogosphere comes to a close with this tune from Slug Guts.  They're yet another Australian band that I've been digging lately, but their sound is dark and moody as opposed to sunny and surfy.  I guess I'd call this lofi post-punk, but I'm not really sure that's accurate.  The guitars clang nicely and the vocals alternate between a yell and a snarl.  It's threatening in all the right ways.  I'm definitely going to be keeping my eyes peeled for their upcoming Playin' in Time With the Deadbeat LP, out on Sacred Bones in late July.  You probably should too.
Now it's off to the Jersey Shore in order to singe the skin off of every surface on my body.  Catch you cats later.
-Kevin
Tweet